This Guy Used A Porn Meme For A College Presentation On DAPL And No One Knows How To Feel
Some people think it's "brilliant" and others are calling it "inappropriate." Everyone's screaming.
This is Joshua Robinson Levine, a freshman at St. Edward's University in Austin, Texas. He's enrolled in a rhetoric and composition course in which he recently wrote a 1,700-word essay on the Dakota Access Pipeline.
The essay assignment was to research and argue for a social issue of the student's choice.
Levine chose the DAPL, and the ongoing protests Native Americans and environmentalists have been organizing against it.
Joshua Levine
"Each student was required to integrate — preferably to create their own — visuals for their presentation," Levine's professor, who chose to remain anonymous, explained. "Memes, tweets, and videos were encouraged."
And, um, this is how Levine chose to open his presentation on DAPL.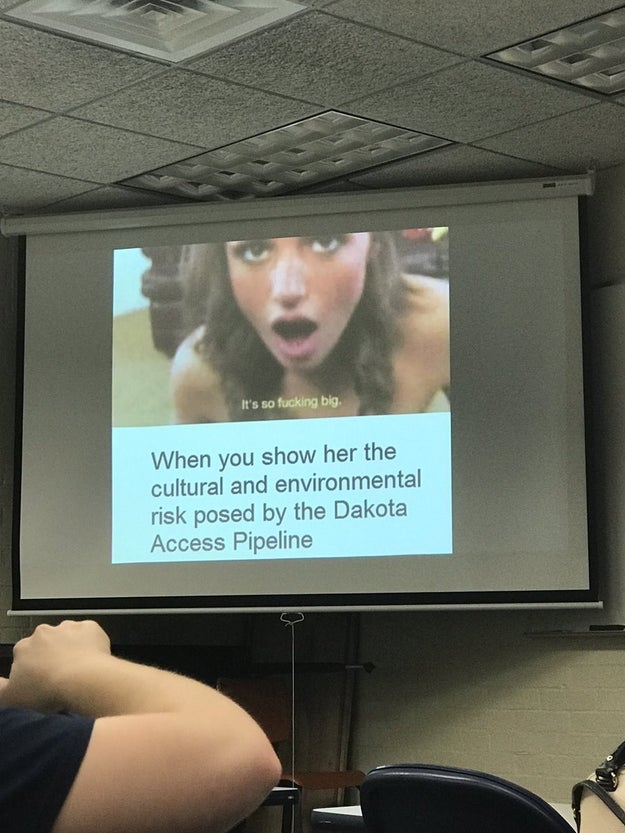 "When you show her the cultural and environmental risk posed by the Dakota Access Pipeline," he wrote on his title slide, and then included a screenshot from a porno.
Levine was inspired by the SFW porn joke that's been around on the internet for awhile now.
"My assignment was to make memes — I simply did as I was told," he told BuzzFeed News.
Robyn Villalpando
Apparently no one in class was ready to see the porn meme in an actual college course. Fellow classmate Bernadette Robyn Villalpando, who doesn't know Levine well, said she "laughed for at least two minutes."
"I don't really know the presenter all that well. He's kind of quiet and always gets to class late," Villalpando said. "I wasn't expecting something like that from him."
She said the whole class couldn't stop laughing.
Robyn Villalpando
---
View Entire List ›