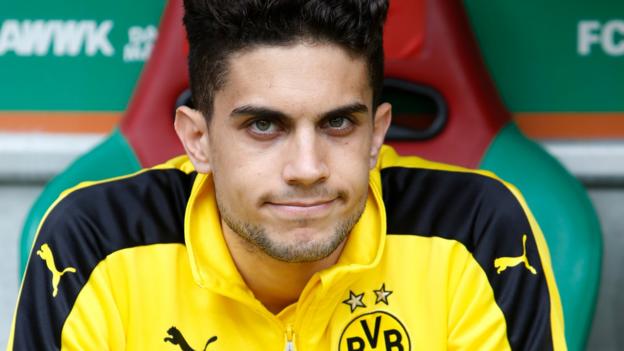 Borussia Dortmund v Werder Bremen
Borussia Dortmund defender Marc Bartra has returned to action for the first time since being injured in a bomb attack on the German club's team bus.
The Spain centre-back had surgery on his right hand and wrist following the blast before a Champions League tie against Monaco on 11 April.
The 26-year-old made his return when he started Saturday's Bundesliga game against Werder Bremen.
Dortmund must win to clinch third place and entry to the Champions League.
Bartra, who joined Dortmund from Barcelona last June, was the only player to receive serious injuries in the blast.
Three devices containing pieces of metal exploded shortly after Dortmund left their hotel to travel to the home leg of their quarter-final tie against the Ligue 1 side.
Police in Germany have charged a man suspected of being behind the attack. Prosecutors say he was a market trader hoping to make money if the price of shares in the team fell.
Bartra returned to training earlier this month, wearing a cast on his right arm, and posed for a selfie with his team-mates.
Dortmund's season continues until next weekend when they meet Eintracht Frankfurt in the German Cup final on 27 May.